Visual Analytics of Music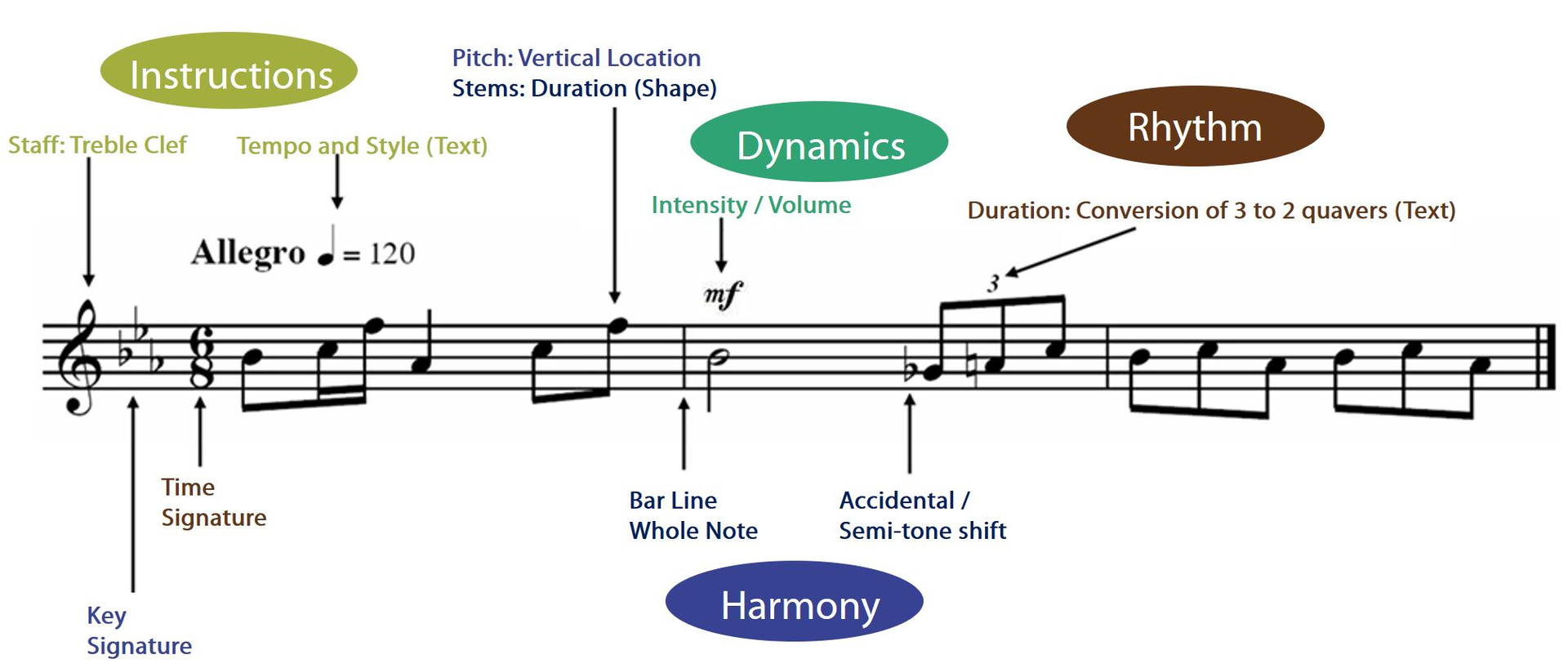 Theoretical (Analytical):


Practical (Implementation):


Literature Work:

---
Overview
Analyzing patterns in music and finding similar music compositions is a complex issue and provides a wide area of research with a growing community.
Understanding musical features such as harmony, rhythm, and structure is a difficult task
The target is to develop new interactive visual analysis techniques that support the analysis of relevant features in music data based on MusicXML
Implementation of user-steered analysis methods based on new visualizations to identify musical patterns of and between different features
Problem Statement
How can we visualize musical features?
How can interactive analysis techniques be implemented to identify characteristic musical patterns?
Tasks
Examine and identify existing approaches and analysis models
Work with a large dataset of music data based on the established MusicXML standard format
Implement a visualization pipeline that processes and transforms raw MusicXML files into interactive visualization models
Create analysis models that support that understanding of pattern from different musical features
Requirements
Interest in learning about music and its underlying theory (e.g., harmony, rhythm, structure)
Basic knowledge about information visualization
Good programming skills in Python or Java (for backend) and web programming skills (HTML / JavaScript / D3)
Readiness to do creative research work independently
Scope/Duration/Start
Scope: Bachelor / Master
Project/Thesis Duration: 3 months / 3 months (Bachelor), 3 months / 6 months (Master)
Start: immediately
Contact
References
M. Good. MusicXML for notation and analysis. The virtual score: representation, retrieval, restoration 12:113-124, 2001.
W. Chan, and Qu Huamin. A Report on Musical Structure Visualization. Leonardo, Department of Computer Science and Engineering Hong Kong University of Science and Technology Clear Water Bay, Kowloon, Hong Kong, 2007.
T. Bergstrom, K. Karahalios, and J. C. Hart. Isochords: visualizing structure in music. In Proceedings of Graphics Interface 2007. ACM, 2007.