The Powerwall at the University of Konstanz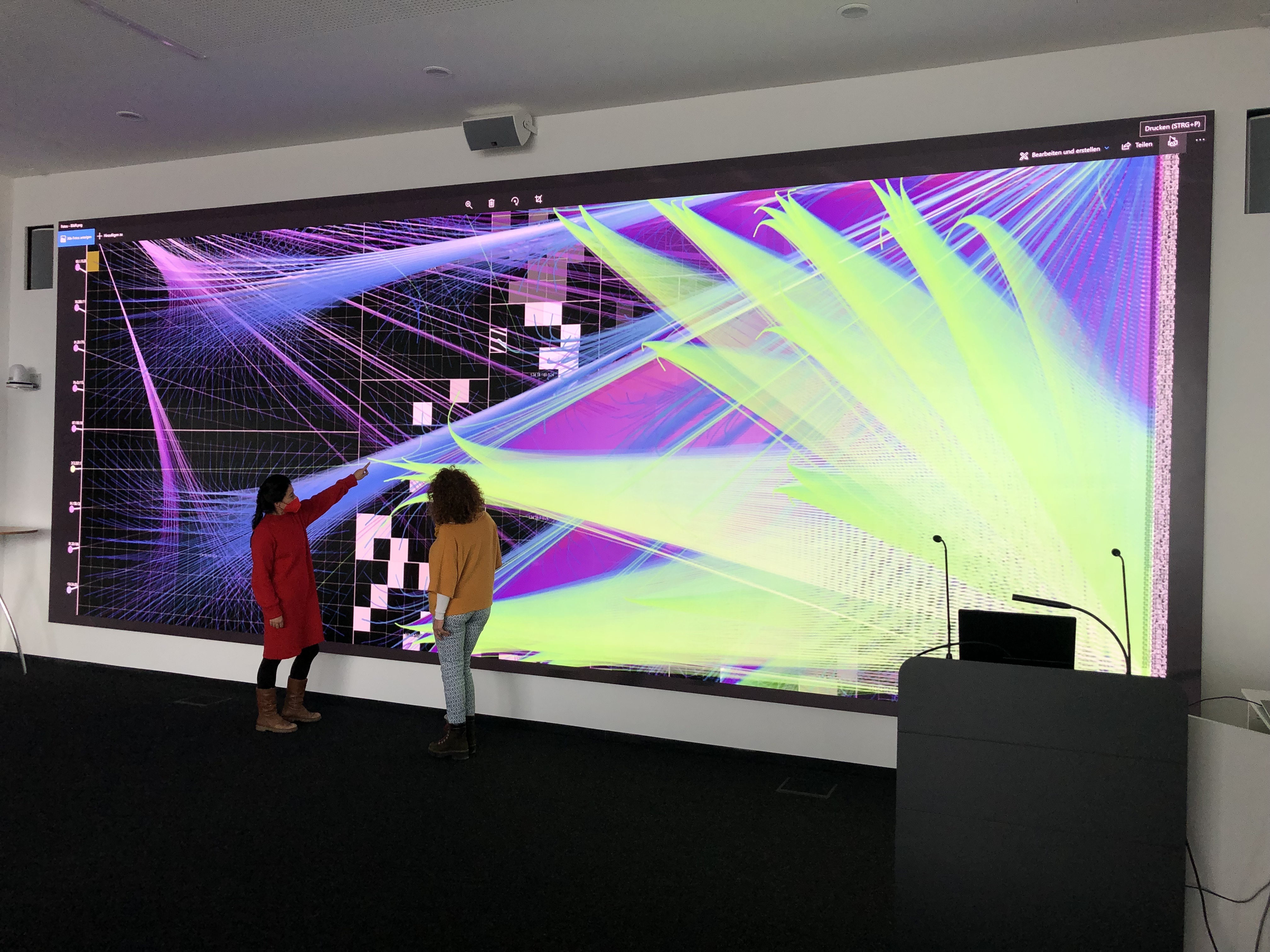 The new powerwall was officially put into operation at the Department of Computer and Information Science, Konstanz University, in March 2023.
The powerwall (developed by Samsung) offers high resolution functionalities with a total resolution of 9600 X 3780.
70 Cabinets guarantee both brightness and color uniformity from the beginning throughout the total lifetime of the system.
Display Wall Dimensions:
Dimensions 8.064 X 3.175 m
Display Area 25.60 m²
Diagonal 341.2 inch
Weight 784.0 kg
Optical Parameter:
Brightness (Peak/Max) 1,600 nit / 500 nit
Contrast Ratio (Peak/Max) 24,000 : 1
Viewing angle - Horizontal 170°
Viewing angle - Vertical 155°
Bit Depth 16 bit (Internal processing 20bit)
Color temperature - Adjustable 2,800K ~ 10,000K (using S-Box)

Electrical Parameter:
Video Rate 100/120 Hz
Input Power Range 100 ~ 240 VAC, 50/60 Hz
Power consumption - Max 476 (W/m²) / 174 (W/Cabinet) (TBD)
Power consumption - Typ 355 (W/m²) / 130 (W/Cabinet) (TBD)
Heat generation - Max(BTU/SF) 1,623 (BTU/m²) / 594 (BTU/Cabinet) (TBD)
Refresh rate 11,520 Hz
Operation Conditions
Applications
The powerwall opens up completely new perspectives in the area of visual data exploration, an area of expertise at the department, which involves the detection of relations in large information spaces. This means, for example, that in the analysis of election results, customer data, or stock-exchange prices, no reduction of aggregation of data is required in comparison to previous monitors; data can generally be displayed in its entirety. In addition, there are numerous other areas of application for the powerwall in both research and industry. The wall enables lifelike images of landscapes, and buildings, either real or imaginary. As sharp and as large as this was previously impossible. This is interesting for biologists who want to observe life-size body cross-sections in detail. The wall is also of interest to car manufacturers who like to inspect the new models in their original size. Further areas of interest are controlling, simulation, marketing analysis, traffic control systems, medicine, and bioinformatics, for example.
In our research, we also investigate how geospatial data, e.g. trajectories occurring in animal behavior analysis, molecular dynamics, or the flight routes of airplanes can benefit from the capabilities provided by the powerwall. In addition, we investigate large-scale visualizations of high-complexity network representations (for instance, large social networks, citation networks, traffic routes, or communication networks) and how visualization and interaction with the powerwall can support researchers in retrieving new hypotheses and findings.
Especially for collaborative data exploration setups the powerwall offers many advantages. A group of people can jointly observe the same data in high quality and consolidate their experiences and knowledge. To support data scientists and domain experts best in working solely or in a collaborative setting, our research is also concerned with adapted visualizations supporting the powerwall capabilities in the best way, new techniques for natural and seamless interaction, and advanced methods e.g. incorporating eye tracking to optimize the perception of the data and certain features. Moreover, we investigate how the powerwall can be combined with further devices like smartwatches, tablets, fixed touch screens, or head-mounted displays to further increase the capabilities required for an optimal data visualization and analysis process.